The best PowerPoint templates are hard to find on the web. They either look cheesy or just boring. That's why we've created this list.
Having several years of experience doing PowerPoint design we wanted to present this list to show what works from our experience. We focused on content structure, fonts, colors and modern look & feel but most importantly we made them easy for you to edit. Choose the one you like and start downloading.
Ultimate Business PowerPoint Template
This is our top selling business template with over 100 amazing slides that are easy to adjust. All the slides are available in 6 colors out of the box.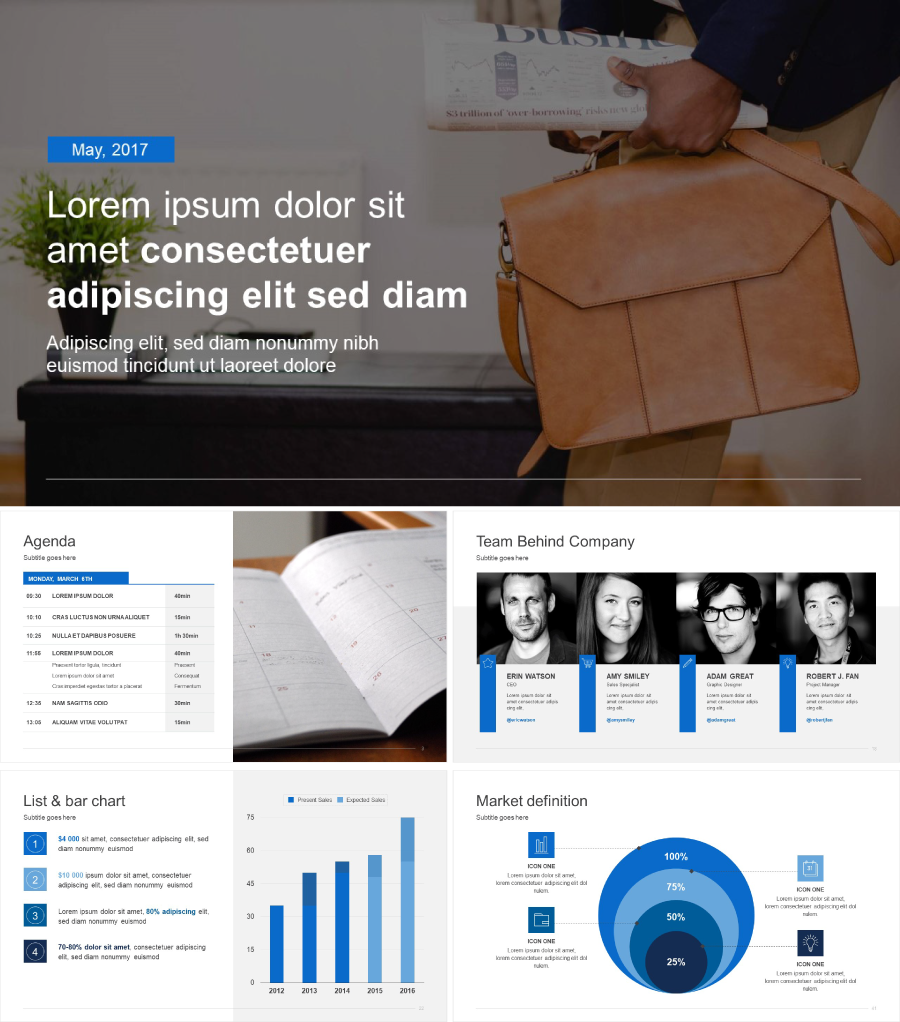 We designed our slides with simplicity in mind. Keep your slides simple when delivering a presentation to an audience in-person.
Pitch Deck Template
The pitch deck is a very special animal to perfect. It is the essential presentation when looking to start a company. So what needs to be in there to make sure that people will invest into it? Simplicity and clarity.



Making this presentation easy to understand will go a long way in getting funding due to people being able to see the data and problem that you will be solving. Then combining this with a clear explanation of the problem you are solving and how you will make money is a sure way to get an investment.
SEE THIS TEMPLATE

Sales Powerpoint Template
Giving a description of sales is an essential for any company or someone giving a pitch. Since it determines what market you may want to go into based on the size, or where you may want to invest in the future for development. Thus being able to deliver that information in an attractive format can definitely help to push your vision of the future forward.


SEE THIS TEMPLATE
Social Media PowerPoint Template
You can choose the stats that matter and deliver them in an easy-to-understand way; there are tons of personal insights to gain as well as valuable info for your boss or client. Great Social media ROI reports are based on prescribed objectives, the progress of the social campaign tasked with meeting those objectives, the analysis of key performance indicators (KPIs) and whether the original objectives are met.
Business PowerPoint Template
With 31 fully editable slides available in five color schemes, the Business Keynote Template is designed to present your information in a professional format. Beautifully designed slides feature charts, graphs, infographics, timelines, and more, giving you all the tools you need to effectively communicate your message. Because all elements and slides are customizable, easily edit them to fit your requirements.



Creating a professional presentation for any business related topic is a breeze with the Business Keynote Template.
SEE THIS TEMPLATE
Portfolio PowerPoint Template
A portfolio is a collection of your work, the representation of what you've accomplished in your field. As such, portfolios can be used in school, work or for hobbies. A college application might require a portfolio, and a job application in an artistic field will almost certainly require a portfolio.

PowerPoint is useful in collecting visual portfolio media in a format that can be shared easily. If your portfolio consists of pictures, video or audio clips, then making a portfolio in PowerPoint can showcase your skills.
SEE THIS TEMPLATE
Marketing Powerpoint Template
Explaining a marketing plan or business proposal is often a mix of every kind of data you can imagine to ensure that the right groups of people are targeted. Now while the data itself is woefully boring, being able to convey in a fun way can bring a lot of excitement to the room.


Making it imperative that the data you have can be condensed in a way to make them very easy to understand! It is especially important when the people you are presenting to have no background in the field as certain data points may be missed otherwise.
SEE THIS TEMPLATE
Project Status Report PowerPoint Template
If you're a project manager, you probably create regular status reports to update stakeholders on how projects are progressing. And there are a lot of things you have to remember to include in these reports. No matter how often you create project status reports, without a list, there's a chance you'll forget something. To ensure your weekly project status report contains everything you need, we've created a simple powerpoint template you can use.


Even if the progress is small and updates minimal, it is still important to be getting the updates. These little pulse checks in the project ensure that as a project manager, you are on top of your game and there are no last-minute surprises. It also enables transparency of the project on all levels and can help you gauge whether there are any problems in the pipeline and to plan accordingly.
SEE THIS TEMPLATE
Business Plan PowerPoint Template
The best business plans explain only the most important information – what you want to achieve, how you will get there and the things you need to do along the way. A great business plan doesn't have to be a book in length, with extensive financial statements.

Most good ones we see are around 25 pages, which is more than enough to describe concisely all the business what, when, where and how. Then when presenting it the key is to simply answer every question your team, partners or investors may have.
SEE THIS TEMPLATE
Startup PowerPoint Template
Explaining all the decisions and research that lead to where your company is today and its future plans can quickly become overwhelming! The Startup Keynote Template methodically presents your information in an easy-to-understand format.



With 28 customizable slides in 3 unique color schemes, the Startup Keynote Template provides founders with a set of slides perfectly geared for sharing their business with others. Sleek slides deliver beautiful charts, graphs, and infographics to display data in a visually compelling manner. Easily change the color and size of the 22 vector icons included to complement your content.
SEE THIS TEMPLATE
Investor Update PowerPoint Template
Keep your angel or institutional investors updated with this easy to edit investor update PowerPoint template that includes everything you need.


With 30 customizable slides in 4 unique color schemes, the Investor Update Template provides founders with a set of slides perfectly geared for sharing their business with others. Whether it's keeping your startup top of mind, getting your investors to share your press success, or requesting an introduction to a potential partner or new hire.
SEE THIS TEMPLATE
Resume / CV PowerPoint Template
A successful resume (CV) is always carefully and clearly presented on a white, minimalistic background. This clean resume presentation template will help you structure your story so it's not crumpled or folded. It includes personal and contact information; education and qualifications; work history and/or experience; relevant skills to the job in question; own interests, achievements or hobbies; and some references.


When it comes to applying for a new job, your CV could be just the ticket to get you that initial foot in the door and secure an interview – ensure your CV is added to the interview pile rather than thrown straight in the bin with this resume powerpoint template.
SEE THIS TEMPLATE
Case Study Plan PowerPoint Template
Case studies are one of the most powerful ways for a brand owner to demonstrate what it delivers rather than what it offers. And yet most case studies don't actually inspire loyalty or confidence in a product or service because they are so badly constructed.

To help you get a handle on the layout, we recommend focusing on building your case study based on sections included in our template: title slide, agenda, executive summary, company analysis, recommendation data and a lot of charts to present your key figures.
SEE THIS TEMPLATE
Quality Powerpoint Template
We all want to have nice things so why not make sure that your presentation reflects that belief. These slides are a great collection to help present in a modern professional fashion.


SEE THIS TEMPLATE
The Vintage Powerpoint Template
As we continue moving forward with technology there is always a bit of itching for the old and to do things the way they used to be. That is where this awesome vintage design comes in handy. Bringing that classic and classy feel to the 21st century Presentation.


SEE THIS TEMPLATE
Business Flow Powerpoint Template
Presenting in a company is often a brutal task as many of us may have experienced tossing together a sad collection of bullets and graphs with a plain theme. Well those days are in the past. These slides make the process of making a presentation easy. Then not only that more people in your meeting will manage to stay awake!


SEE THIS TEMPLATE
Fresh Powerpoint Template
Sometimes the best way to do things is with a bit more funk. Which is exactly what these were designed for. They all aim to convey a bit more fun than your average slide, which in many cases can be far from entertaining to look at.


SEE THIS TEMPLATE
Red Carpet Powerpoint Template
This template was designed to give off the elegant and chic feel of being the main focus. It really helps to break free from the general drab and boring designs usually seen in presentations making it perfect for when a design with more flair is needed.


SEE THIS TEMPLATE
Thank you for supporting us. We hope you enjoy using our templates! If you have any questions concerning our templates please contact us. We respond quickly.
This is a blog written by Improve Presentation. We are presentation experts. We design high quality Powerpoint Templates and Keynote Templates and create custom unique slidedecks for our clients. See our work